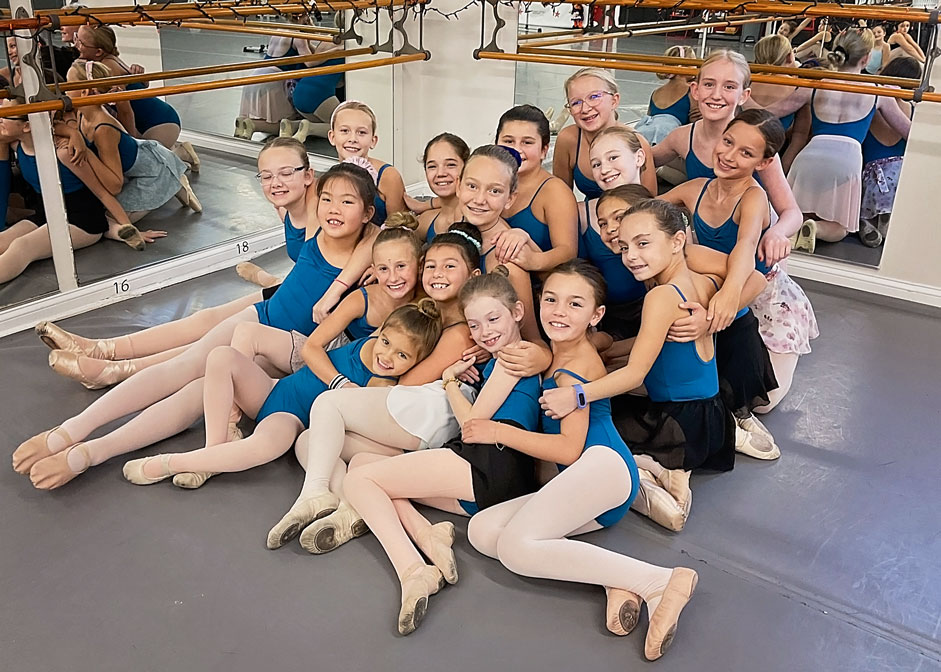 General Policies
All students will come prepared to take a class in the proper dance wear, with hair in a secured bun (please see dress code).

There will be no chewing gum in the studio at any time. Water can be brought into class or purchased at the studio.  No other beverages are allowed.  
We are a drop off/pick up facility. There is no parking permitted in front of the orange cones. This is for the safety of our children.
Students or parents are asked to email in all absences. THERE WILL BE NO REFUND, CREDIT, OR MAKE-UPS FOR MISSED CLASSES.
Attendance at all dress rehearsals and performances is mandatory for all students. All students will perform in our annual June recital.  Further, all students are required to perform through "The Grand Finale."  No parent is permitted to gather dancers' belongings during the recital.  If a student is not available for the entire performance, that student will not be permitted to perform.
No videotaping or flash photography at dress rehearsals or performances. 

Permission for the use of your dancer's photos/videos is assumed unless otherwise noted in writing.
DRESS CODE
It is important that our dancers are dressed professionally and appropriately for classes. Dress code and hair requirements are strictly enforced.
HAIR
Hair must be pulled back in a tight, secure, high bun for all ballet classes. Hair must be pulled back and out of your face for all dance classes.
SHOES
i. Ballet Shoes: Pink Canvas Split Sole
ii. Tap: Black Oxford Type, Split Sole
iii. Jazz: Tan Split Sole Jazz Shoes
iv. Contemporary/Lyrical: Half Shoes or Bare Feet
v. Hip Hop: Any sneaker
vi. Pointe: Pointe Shoes
LEOTARDS
All ballet workshops and B/J B, C, D, E, & F will be required to wear a studio uniform to class (one per class). Each level will have their own color. The
leotards are $22 each and must be worn to class each week with pink tights and pink ballet shoes.
PLEASE REFER TO THE HANDBOOK FOR SPECIFIC DRESS REQUIREMENTS FOR EACH CLASS.
Tuition
Tuition is due the first week of every month and can either be paid with cash, check, or venmo (@debrasparks5678).  Checks should be made out to Debra Sparks Dance Works.  You will receive a statement in your email as to how much you owe for the month.  Cash Discount: 5% off monthly tuition if paid in CASH before the 10th.  Payment can be handed in at the front desk, or left in the lock box to the right of the window.  More tuition details can be found in the handbook.
Late Fee:
All payments received past the 10th of each month will incur a $15 late fee each week late.  Returned checks will incur a fee of $30.00.
Inclement Weather:
The studio will be closed when public schools are closed due to inclement weather.  Please refer to Council Rock School District information for snow closing.  We also will close if the governor issues a state of emergency.  There are no make-up classes or refunds for inclement weather days.
Costume Deposits:
A costume deposit of $50.00 per costume is due in November.  Costume balances are due before the holiday break in December.  Costumes are $80 each.  Please pay costume deposits and balances with a separate check (not with tuition).
There are no refunds for costume deposits for any reason.
The DSDW Vision

Ms. Debra's goal remains as it began in 1984: to teach young, talented children the wonderful art of ballet and dance, to encourage their growth in self-esteem with pride in their accomplishments, and—above all—to instill in them the "love of dance!"