Debra Sparks Dance Works Studio offers Dance lessons for the Beginner to Pre-Professional in Ballet, Tap, Jazz, Pointe, Lyrical, Hip-Hop, Acrobatics, Pilates, and more. Private Lessons and Performance Technique and Auditioning training are also provided at the studio. Scroll below to see a complete list of available classes with their descriptions.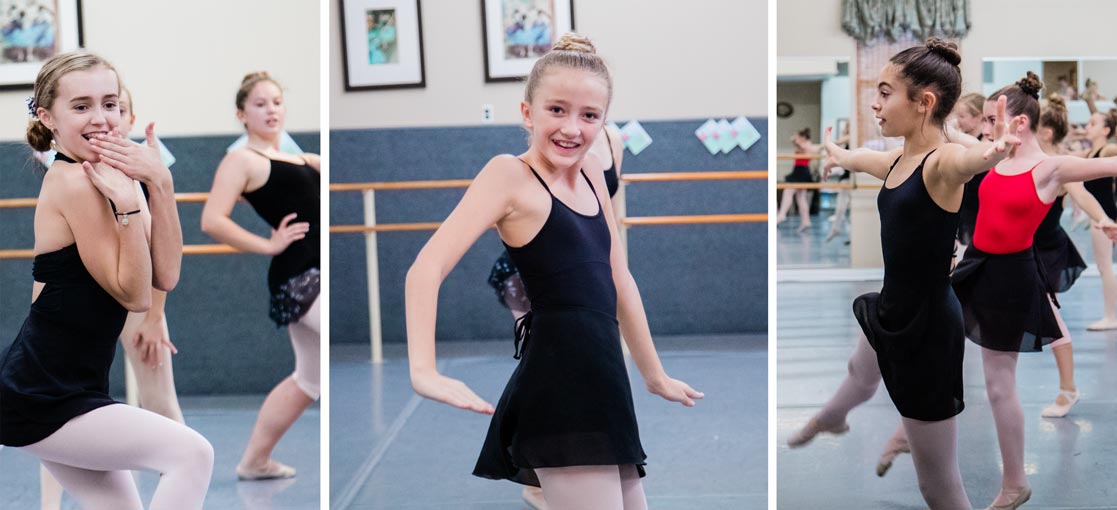 ---
Acrobatics/Acro – Elements of tumbling, flexibility training, balance control, and core strengthening with gymnastic and dance technique.
Adult Ballet – Classical ballet technique at a beginner level for teens and adults.
Adult Tap – Tap technique at a beginner level for teens and adults.
Adult Barre Conditioning/ Teen Barre and Yoga – For teens and adults! An energetic mix of dance, pilates, barre, and yoga exercises set to upbeat music for a full body burning, toning, and strengthening workout. Suitable for all fitness levels, this class focuses on isolated fitness exercises, alignment, flexibility, endurance, and posture as you work through targeted mindful muscle movements….and most importantly, IT'S FUN! No dance experience needed. Now also held at times when your little one can be in dance class while you get a workout!
Ballet/Jazz – Classical ballet technique at varying levels in combination with Broadway style jazz movements.
Ballet/Tap – A combination class for young dancers wanting training in both ballet and tap. Proper ballet technique is emphasized in a fun and positive atmosphere while encouraging all to reach their fullest potential. Tap then adds the element of rhythm! The use of props and costumes promote creativity and self expression!
Ballet/Acro – a fun and upbeat introduction class for our youngest dancers! Incorporates fundamentals of ballet technique as well as tumbling/gymnastics skills for those who want a little bit of both in their life! Lots of props and creative exploration will be happening in this new, fun class!
Broadway Jazz 1,2,3 – Jazz technique class offered in three levels offering the best of Broadway dance choreography!
Broadway Bound/ Tap n' Twirl – A fun and exciting class for young dancers! Featuring ballet, tap, and more for those bound for Broadway!
Choreography Class – New teacher each month! Non- recital class that strictly focuses on learning new choreography and different styles of dance instill well–roundedness.
Classical Ballet Workshop – Ballet technique at varying levels, utilizing Vaganova and Balanchine techniques.
Competitive Jazz – Varying levels of classical jazz movements and technique with emphasis on jumps, turns and choreography.
Contemporary/ Contemporary Fusion– Traditional modern dance training in the styles of Horton and Graham Technique. Contemporary dance is a style of expressive dance that combines elements of several dance genres. Contemporary technique strives to connect the mind and the body through fluid dance movements, level/direction changes, release work, and improvisational characteristics.
Contemporary Lyrical – Popular contemporary style as seen on the hit show "So You Think You Can Dance."
Creative Movement – A class for our youngest dancers! The emphasis is on developing a sense of larger motor skills through movement! The atmosphere is fun, nurturing, encouraging and positive with lots of giggles! Lots of props are used to provide a fun exploratory class without any pressure. Creative dance games are included as well as learning the foundational steps and concepts of dance.
Disney Dance – A fun and energetic combination class for young dancers featuring both ballet and jazz technique set to Disney music and themes! Your dancers will learn proper ballet technique and terminology in a positive and encouraging environment, while also learning self- expression through jazz.
Fairytale Dance – an interactive class that uses creative dance fundamentals to explore the characters and ideas in fairy tales. This class will also incorporate the fundamentals of ballet and jazz, and tap to introduce your child to storytelling through dance steps and encourage individual creativity & expression, cooperation & leadership skills, and a lifelong love for dance.
Glee Project/ Musical Theater – Musical theater class, combining singing, dancing, and acting. Learn Broadway repertory as well as repertory from your favorite TV Show Glee!
Hip Hop – Varying levels of street, funk dance, breaking, popping, and electric boogie. Hip-Hop dance is an urban style of dance that is always evolving with many different styles. High energy, upbeat, focusing on musicality and rhythm.
Improv – Based on all dance genres. Improvised choreography encourages creative growth potential.
Jazz Funk – Varying levels of jazz technique, incorporating funk movements.
Jump/Turn – A class that focuses on various jump and turn combinations which are integrated into all dance styles such as ballet, jazz, and contemporary.
Little Rock Stars – A new and innovative class for our young dancers who are looking for the latest dance craze. From jazz, to hip-hop, to acrobatic tumbling your dancer will experience what it is like to be a "Little Rock Star"! This is the perfect opportunity for boys and girls alike! Don't miss out on the fun.
Lyrical – Varying levels of classical dance movement interpreting lyrics and feelings of a song.
Lyrical Jazz – lyrical and jazz based class
Master Ballet Technique – Ongoing classes in ballet that focus on technique that enhances muscle memory.
Master Classes – Renowned guest teachers from Broadway, Ballet Companies, etc. teaching various styles of dance. This is offered for the intermediate and advanced student only on a first come first served basis.
Mommy and Me – young dancers ages 18 to 24 months can get a jump start on their dance careers while moms and dads enjoy a workout. Bond with your baby and immerse them in learning through music, movement, and sensory play!
Pointe/Variations – Varying levels of classical ballet technique wearing pointe shoes, along with the study of classical ballet variations from famous ballets. Must be invited into these classes – as per Miss Debra.
Pom Dance – a new class incorporating dance team and sports cheerleading team techniques. Fun and upbeat music. Taught by an Eagles Cheerleader!
Pre- Pointe – offered to ballet students who are not yet wearing pointe shoes to further develop and strengthen the muscles necessary to go en pointe. Correct alignment and correct classical ballet technique will be stressed, along with many strengthening exercises to prepare your dance for pointe.
Princess Ballet – Beginner ballet technique with a "Princess Theme" each week. This class, for our youngest dancers, encourages beginning steps in ballet, jazz and creative movement. Princess themes keep all intrigued and motivated! You might even see a visit by a real princess! Props (tutus, tiaras, wands, etc.) are used to encourage attentiveness. Praise is abundant and our littlest dancers finish with great pride in their numerous accomplishments!
Princess Ballet & All That Jazz – A combination class for young dancers wanting training in both ballet and jazz. Proper ballet technique is emphasized in a fun and positive atmosphere while encouraging all to reach their fullest potential. Jazz then adds the element of self-expression. The use of props and costumes promote fun, fun, fun! Toddlers will dance to The Lion King, Aladdin, Annie, and many more favorites from the Broadway stage!!! Our youngest dancers will be encouraged to sing along to favorite tunes as they learn their first Broadway steps!!!
Private Lessons – One-on-one training is available in all styles of dance.
Progressing Ballet Technique – an innovative program developed by Marie Walton-Mahon along with a team of physiotherapists for students to understand the depth of training muscle memory to achieve their personal best in classical dance. PBT is a non-traditional technique class using the aid of fitness balls, therabands (resistance bands), and a yoga mat to improve students understanding of core stability, weight placement, and alignment. Because it is difficult for students to feel what muscles initiate the correct alignment in ballet training, the fit ball, with its continuous mobility under the students' body, helps to give a sense of posture and weight placement while feeling each correct muscle group. This innovative program has received positive feedback from teachers, students, and professional ballet companies worldwide. (Equipment Needed: 1) Yoga Mat 2) Fit Ball (Fit balls come in 2 sizes at Five Below. Younger students under 5'0 should get the 22in FitBall, older student 5'0 and above should get the 25/26in Fit Ball) 3) Small Toy Ball (No soccer, basketball, or hard playground balls, These are too big and too firm) 4) Theraband All PBT equipment can be found at Five Below Store!)

Rhythm Tap Int./Adv. – Various tap styles and techniques combining modern tap with funk movement. Clear focus on rhythm, clear tap sounds, strength, and speed to develop strong tap dancers.
Sassy Jazz – a fun jazz class to popular music where dancers not only learn technique, but also to express themselves.
Tap – Traditional tap styles with a heavy Broadway influence.
Team Workshop Mini/Jr./Sr. – Individualized workshop classes in all forms of dance for the competition teams. Invitational only.
Tumbling Tots – Basic tumbling skills for our youngest Olympic-bound toddlers.