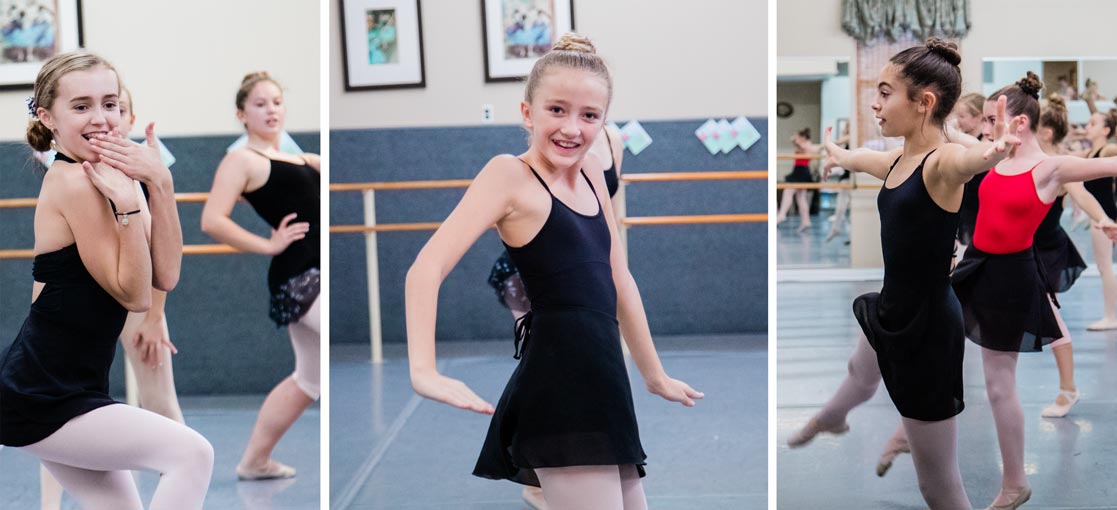 Dance Classes for the Beginner to Pre-Professional
Ballet, Tap, Jazz, Pointe, Lyrical, Hip-Hop, Acrobatics, Pilates, and more.  Private Lessons and Performance Technique and Auditioning training are also provided at the studio. 
Scroll below to see a complete list of available classes with their descriptions.
8-Point Learning Program – The 8-Point Learning Program at Debra Sparks Dance Works will provide a perfect combination of learning and fun where both boys and girls are encouraged to celebrate their uniqueness and endless possibilities of success in both academics and the arts while building self esteem and confidence.  Preschool students will study the 8 Points: Literacy, Mathematics, Science, Technology, Socialization, Fine/Gross Motor Development, Culture, and Creative Expression.  Email for more information or visit our website at 8pointlearningprogram.com!
Acro/Acrobatics – Elements of tumbling, flexibility training, balance control, and core strengthening with gymnastic and dance technique.
Adult Ballet – Classical ballet technique at a beginner level for teens and adults, and also a great workout!
Adult Tap – Tap technique at a beginner level for teens and adults.
Ballet/Jazz – Classical ballet technique at varying levels in combination with Broadway style jazz movements.
Ballet/Tap/Jazz – A combination class for young dancers wanting training in a little bit of everything – ballet, jazz, and tap. Proper ballet technique is emphasized in a fun and positive atmosphere while encouraging all to reach their fullest potential. Tap and jazz add the element of rhythm! The use of props and costumes promote creativity and self expression!
Broadway Tap/Jazz – a musical theater based beginner class learning both tap and jazz technique and basics to your favorite Broadway tines!
Broadway Bound/Tutus and Tap Shoes –  A fun and exciting class for young dancers! Featuring ballet, tap, and more for those bound for Broadway!
Character Dance – Combining acting and dance techniques, learn to dance and be a character all at once!
Classical Ballet Workshop – Ballet technique at varying levels, utilizing Vaganova and Balanchine techniques.
Contemporary Ballet – Classical ballet technique with a contemporary twist.  Class will use modern music for performance and class.
Contemporary – Contemporary dance is a style of expressive dance that combines elements of several dance genres. Contemporary technique strives to connect the mind and the body through fluid dance movements, level/direction changes, release work, and improvisational characteristics.
Disney Dance – A fun and energetic combination class for young dancers featuring both ballet and jazz technique set to Disney music and themes! Your dancers will learn proper ballet technique and terminology in a positive and encouraging environment, while also learning self- expression through jazz.
Flex and Stretch – improve your flexibility and learn proper and safe stretching techniques.  Master your splits, straddles, needles, bow and arrow, heel stretch, and extensions.
Jazz – Varying levels of classical jazz movements and technique with emphasis on jumps, turns and choreography.
Lyrical – Varying levels of classical dance movement interpreting lyrics and feelings of a song.
Lyrical Jazz – A fun blend of lyrical and jazz movements to allow for creative and exciting dancing!
Hip Hop – Varying levels of street, funk dance, breaking, popping, and electric boogie. Hip-Hop dance is an urban style of dance that is always evolving with many different styles. High energy, upbeat, focusing on musicality and rhythm.
Jump/Turn – A class that focuses on various jump and turn combinations which are integrated into all dance styles such as ballet, jazz, and contemporary.
Master Ballet Technique – Ongoing classes in ballet that focus on technique that enhances muscle memory.
Modern – Traditional modern dance training in the styles of Horton and Graham Technique.
Parent and Me, ABC! – young dancers ages 12 months to 24 months.  Bond with your child and immerse them in learning through music, movement, and sensory play!
Pointe – Varying levels of classical ballet technique wearing pointe shoes, along with the study of classical ballet variations from famous ballets. Must be invited into these classes – as per Miss Debra. Pre-Pointe is offered to those who are not yet wearing pointe shoes to further develop and strengthen the muscles necessary to go en pointe.
Princess Ballet/Sugar Plum Ballet – Beginner ballet technique with a "Princess Theme" each week.  This class, for our youngest dancers, encourages beginning steps in ballet, jazz and creative movement. Princess themes keep all intrigued and motivated! You might even see a visit by a real princess!  Props (tutus, tiaras, wands, etc.) are used to encourage attentiveness.  Praise is abundant and our littlest dancers finish with great pride in their numerous accomplishments!
Private Lessons – One-on-one training is available in all styles of dance.
Rhythm Tap  – Various tap styles and techniques combining modern tap with funk movement. Clear focus on rhythm, clear tap sounds, strength, and speed to develop strong tap dancers.
Team Workshop Mini/Jr./Sr. – Individualized workshop classes in all forms of dance for the competition teams. Invitational only.
Team Group Dance Classes – learn choreography to be taken to competition and practice it each week in these classes.  For DSDW team members only.  (Must audition to be on the competition team)
Tik Tok Hip Hop- A hip hop class with tik tok inspired songs and choreography!
Turn Technique Workshop – master your turns and turning leaps!  Learn and practice different challenging turn sequences.
Twos in Tutos – a new class for two year olds.  Wear your tutu and learn in a fun and nurturing class atmosphere with lots of giggles, movement and dance!  Lots of props are used to provide a fun exploratory class without any pressure.  Creative dance games are included as well as learning the foundational steps and concepts of dance.  The emphasis is on developing a sense of larger motor skills and beginner dance steps through movement!
Voice and Acting – Learn how to be a triple threat!  Sing and act to Broadway classics and learn proper voice training techniques to take your singing to the next level!
____________________________________________________________________________________________
Non-Recital Classes 
Classes that will work on technique all year, not focused on a final performance
Jump/Turn
Master Ballet
Stretching and Conditioning
Adult Classes